General Inquiries
Product information/About ordered products
Material/Specification/Inventory/Arrival/Image reprint
Delivery date / wrong delivery address / shipping fee / defective item declaration / refund goods / order cancellation etc.
Please contact the vendor directly.
Please click the 「メッセージ作成」/"send a message" button through the vendor page to contact the vendor.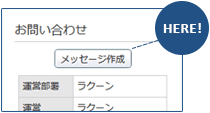 About system and instructions
Payment error / Login error / Monthly membership fee / Change account information / Payment method etc.
Super Delivery Customer Support Desk
お問い合わせ
(10:00~18:00 Excluding Saturdays, Sundays, and holidays)
About Paid (Pay later)
About billing date/payment date/usage limit/invoice change etc.
Please contact Paid Customer Support Desk
お問い合わせ
TEL:03-6684-9505
(11:00~17:00 Excluding Saturdays, Sundays, and holidays)